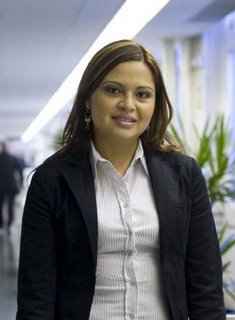 Landmark trachea transplant in Barcelona performed with a whole organ stem cell
Five months ago 30 year old Claudia Castillo had a damaged wind pipe and collapsed left lung due to suffering from tuberculosis. Now she has been given a new lease of life after being the first person in the world to receive a successful wind pipe transplant. An article published today in the medical journal 'the Lancet' outlines the procedure which was carried out by a team of specialists from the Clinic Hospital of Barcelona, the Polytechnic of Milan, and the Universities of Bristol and Padua.
Paolo Macchirini, the head of chest surgery for the Clinic Hospital of Barcelona carried out the transplant on Claudia last June.

The transplant was carried out without using immune-suppressant drugs. In order to do this researchers had to use 'tissue engineering' which resulted in a hybrid organ between the donor and the patient.
The donor was a 51 year old man who had died from a brain haemorrhage. Following the extraction of his wind pipe it was washed 25 times with an enzymatic detergent in order to rid it of all its active immunologic cells. Following this it was sent to the University of Milan where researchers put it in a tank containing cartilage cells grown in the University of Bristol using stem cells extracted from Claudia's bone marrow.
Claudia has now recovered a large part of her lung function and is not taking any medication. Before the transplant various procedures had been attempted to recover the use of her wind pipe but without success.

Preparations had been made to remove the damaged lung if the transplant failed. However, although this procedure would have saved her life it would also have left her with severe respiratory problems.
Now following the success of her transplant operation Claudia can lead an active life and next week she will travel to Columbia to visit the rest of her family.
For the researchers achieving the acceptance of the organ without the use of immune-suppressant drugs represents a significant medical breakthrough in the area of organ transplants. Furthermore, according to Macchirini who headed the team that operated on Claudia, the same system could be used for other tubular organs like the colon or the oesophagus.
The breakthrough is a triumph for European collaboration between scientists and demonstrates the potential of adult stem cells to save lives.

The Clinic Hospital of Barcelona has two more patients waiting to receive a similar transplant.