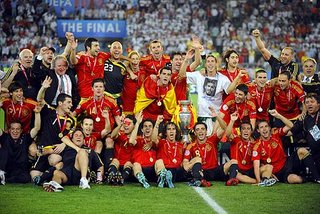 Winning Team return to Madrid today
Following Spain's convincing 1 – 0 victory against Germany in last night's European Cup final the triumphant Spanish national team is due to arrive back in Madrid this afternoon. Their arrival and parade through Madrid with their trophy is expected to be attended by thousands of fans. Around two hundred police will assist in escorting the vehicle carrying the team through the streets of the Spanish capital.
As well as a large police escort around 40 medical assistants, 8 ambulances and 4 teams of medical staff on foot will accompany the parade. In order to try and prevent problems the town hall of Madrid is planning to stop traffic entering the streets between the la plaza de Gregorio Marañón and Cibeles, as well as la glorieta de Alonso Martínez and Serrano.

Traffic will be prevented from entering this area depending on the number of people attending the parade. Hundreds of thousands of people are expected to line the streets to welcome back the victorious Spanish team.
The local authorities have recommended that people use the public transport system, especially the Metro underground system, as alternative ways of getting to Serrano, Alfonso XII, Velázquez, Príncipe de Vergara, las Rondas and la M-30.
A special stage to one side of the Paseo de la Castellana, in front of the Fernán-Gómez theatre has been installed where there will be a concert to entertain the expectant crowds. A number of large screens will also be put up so that everybody can take part in the celebrations.