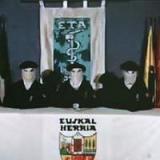 Today at 12.30 ETA announced a permanent ceasefire which will come into effect at midnight on 24th March. See video of ETA announcing ceasefire.
The announcement comes just a day after the Constitutional Courts approved a final text for the new Catalan statute which will be put to the Spanish parliament in the next few weeks.
In a message sent to the Basque newspaper GARA and published in full on the paper's website (see full text of the ETA ceasefire announcement), the Basque terrorist group claims that its leaders have taken this step «to give impulse to a democratic process in Euskal Herria (the Basque Country) to build a new framework within which the rights corresponding to the Basque people are recognised and to ensure a capacity to develop all political options in the future » (the political wing of the Basque terrorist group is currently banned from participating in the political system).

«At the end of this process, Basque citizens must have the final word and the right to decide their future».
ETA goes on to say that its members expect the Franch and Spanish states to respect the decisions made by Basque citizens concerning their future and calls for both countries to respond in a positive way to «this new situation» and put repression to one side. The terrorists also call on Basque citizens to get involved in the process and to fight for the rights corresponding to them.

ETA expresses its desire and will for this process to finalise in the creation of a truly democratic situation for the Basque Country, the end of the conflict which has been going on for years, and the construction of a peace based on justice.
«We affirm our commitment to go on taking steps forward in the future in accordance with this will. To overcome the conflict is possible here and now. Such is the desire and the will of ETA«.
The Moncloa (Spanish government headquarters) has expressed Zapatero's satisfaction at the announcement, but according to the Cadena Ser, the Spanish prime minister has asked his ministers to be cautious for the moment and to abstain from making declarations.

The Spanish Vice-president, Fernandez de la Vega, has also urged caution, although she said she hoped the announcement represented the beginning of the end of violence. Only a couple of weeks ago, Rodriguez Zapatero announced that the end to ETA's violence was near. Other key Spanish politicians have made declarations. The leader of the Basque Popular Party, Maria San Gil, said that the announcement was the result of «continual concessions of Zapatero's Government», while the leader of the Catalan separatists, Artur Mas, told the media he was very happy to hear ETA's promise of a «permanent» ceasefire.
Related:
Spanish government proposes talks with ETA
Spanish government and ETA negotiate possible ceasefire
The majority of Spaniards would support negotiations with ETA