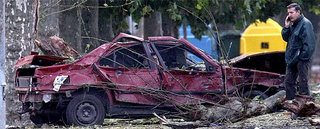 ETA kills one man in Santoña in third car bomb in 24 hours
A member of the armed forces was killed and seven others injured when a car bomb exploded in Santoña (Cantabria) last night. The dead man has been named as Luis Conde de la Cruz. Out of the injured men is in a serious condition and has undergone surgery The others have been treated for minor injuries and shock.
The dead man was 46 years old and was in Santoña on holiday according to the President of Cántabria, Miguel Ángel Revilla. Although the area had been cordoned off Luis Conde de la Cruz was outside the building where the explosion took place while the other injured men were all inside the building in the military compound.

The explosion of the latest car bomb took place in a military compound in Santoña, Virgen del Puerto, which is an training Academy for the children of members of the Spanish armed forces, although since its inauguration last October it has only been used as a residence for military personnel.
Luis Conde de la Cruz is the third man to be killed by ETA this year following the murder of the former socialista councillor, Isaías Carrasco and the Civil Guard, Juan Manuel Piñuel.
According to witness accounts the car bomb exploded just before 1 am near the military compound, Virgen del Puerto. The municipal police in Santoña received a warning at around 00.50 hours that there was a car bomb in the area near the monument to the admiral Carrero Blanco. A man speaking on behalf of ETA gave 40 minutes for the evacuation of the area.

The car bomb contained 100 kilos of explosives and left a large crater in the place where the vehicle was parked.
The President of Cántabria, Miguel Ángel Revilla and a member of the government, Agustín Ibáñez, together with the Mayoress of Santoña and several members of the local town hall have all visited the site of the explosion.
This latest explosion is the third ETA bomb to explode in the last 24 hours. On Saturday night a bomb exploded outside the headquarters of Caja Vital in Vitoria and another bomb exploded outside the police station in Ondarroa injuring 10 people two of whom remain in hospital including a 15 year old girl.
It is believed that the recent decision of the Spanish high court to make two Basque nationalist groups illegal – Acción Nacionalista Vasca (ANV) and the Partido Comunista de las Tierras Vascas (PCTV-EHAK) – could be behind these latest ETA terrorist attacks.