Car bomb explodes outside Civil Guard living quarters in Legutiano in the Basque province of Alava
A Civil Guard was killed and another four were injured when the bomb went off at three 0'clock in the morning. Juan Manuel Piñuel Villalon is the sixth victim of Basque terrorism since ETA ended the ceasefire in December 2006. The injured victims have been taken to two hospitals in Vitoria and are in a stable condition according to the latest reports.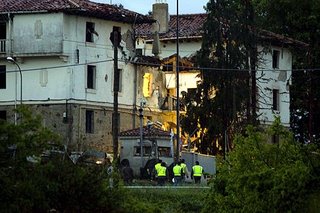 First reports suggest that the car parked just ten metres from the the civil guard family quarters contained more than 100 kilos of explosives.

No prior warning was given and the force of the explosion took everyone by surprise.
Forty people were inside the quarters at the time of the explosion which destroyed the façade of the building. No damage was done to any nearby buildings.
Legutiano is a village with just 1,418 inhabitants located 15km north of Vitoria, capital city of the province of Alava. The Red Cross has sent a team of psychologists to treat the people who were inside the quarters when the bomb exploded.