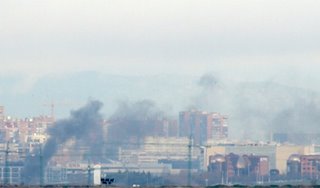 ETA car bomb explodes in Campo de las Naciones in Madrid
A car bomb exploded in the Campo de las Naciones business complex located in Madrid this morning in the street Ribera del Loira. The explosion occurred approximately an hour and a half after the Red Cross received a warning from ETA. At present no injuries have been reported but the bomb blast has damaged a large number of nearby buildings including one belonging to a railway company.
The Centre of Coordination for the Red Cross received an anonymous call at 07.37 this morning announcing that there was a car bomb in the Campo de las Naciones.

The police immediately cordoned off the area next to the business complex, IFEMA, a large exhibition centre, and roads leading to the M-40 which led to large traffic jams during this morning's rush hour.
It is not the first time that ETA has targeted the Campo de las Naciones buinsess complex in Madrid. In 2005 on 10th February shortly before the King and Queen of Spain were due to open a business fair another car bomb exploded causing 43 injuries and significant material damage to surrounding buildings. The Justice Minister for the regional government of Madrid, Francisco Granados, commented that this area is very quiet at weekends which makes it an easy target for ETA. In addition it is located near the M-40 which links the Spanish capital to Zaragoza and Barcelona.
The car bomb comes just 11 hours after the Spanish High Court decided to annul the lists of candidates for D3M and Askatasuna for the elections for the Basque government which are due to take place shortly because of their links with ETA-Batasuna.