Cristiano Ronaldo in danger: he has to rest.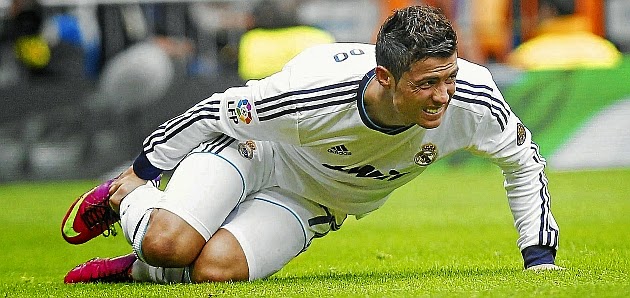 Imagen de Marca.com
C. Ronaldo, the best player in Europe, in the Real Madrid has a serious problem: tendinitis, tendon inflammation, which requires a lot of rest.
The football coach of the national team in Portugal will be without Cristiano Ronaldo for the next game.

He has warned Real Madrid: Cristiano must rest.
Real Madrid striker Cristiano Ronaldo was left out of the squad for the Portuguese national team for the next match against Albania in qualifying for Euro 2016, on September 7, which reopens the debate on whether or not to stop playing. The Portuguese player, 29, drags a left knee tendinitis since May. And he played with discomfort the end of last year, including the Champions League final that won the Lisbon Madrid against Atletico Madrid(4-1).
The Portugal coach Paulo Bento said Friday at a press conference that the medical department of the Portuguese football federation told him that the player "is not able to compete," despite having played his club lately.
"The indications from our medical department is that Cristiano Ronaldo is not able to compete and we chose not to call.

Situation Helder Postiga and Hugo Almeida is different because you are not competing," said Paulo Bento.
The coach denied that the decision not to call Cristiano Ronaldo to play for Albania were a warning to Real Madrid for which the player has to stop playing.
"No charge at Real Madrid. Only I decide selection (Portuguese) who enters or leaves. I have information that you can not compete by the medical department of the team."
Doctors will also own the Madrid have repeated ad nauseam that needs rest, that is the limit and could become chronic tendinitis grave.
The white player himself admitted in an interview in the daily 'A Bola' risks he took at the time. "Of course I risked my career but in life nothing is gained without sacrifice and sometimes we have to take risks.

"
He also stated that if he had stopped in the summer "and would be fine" physically, but did not want to miss its date with international competitions.