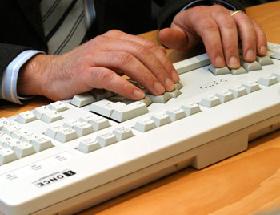 Researchers of Barcelona's Autonoma University (UAB) and the ONCE (Spanish Organization for the Blind) have developed the world's first braille computer keyboard, and they presented it to the media yesterday in Barcelona. UAB Professor Jordi Roig, himself blind, told the press that the keyboard was especially useful for people who experienced difficulties in coordinating hand and arm movements.
This new keyboard for the blind connects to the computer with a USB key, so that it isn't necessary to re-start the computer every time it is connected. The keyboard makes it easier for visually and handicapped people to carry out tasks involving mathematical operations, chemical equations and even musical notes without needing the help of another person.
In developing this new tool, which will hopefully encourage the participation of handicapped people who until now have been unable to share fully in the advantages of new technologies, the researchers combined the function and movement keys of conventional keyboards and substituted the number keys for 8 braille keys which enable users to write in any language.

for new keyboard has combined the function and movement keys, and applied braille keys instead of the alphanumerical ones so that users can write in any language.
The keyboard will be marketed by ONCE and is expected to cost between 600 and 800 euros.