Coldplay´s last concert in Spain took place in San Sebastian on Friday 25th November. Despite the freezing temperatures and torrential rain up to 10,000 people turned up to see them play.
Although the support band Goldfrapp, who played for less than half an hour, failed to impress the public, once Coldplay took to the stage, the party began. The group played a selection of songs from all three albums one of the most memorable being 'Yellow' when huge yellow balloons descended from the ceiling, finally bursting and showering the audience with gold streamers.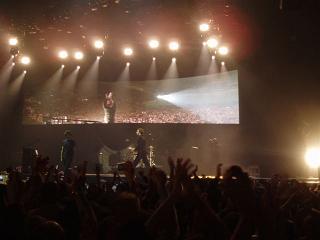 Coldplay surprised the audience with their energy, at one point Chris Martin appeared amongst the audience in one of the furthest seating areas.

After a long encore which included Swallowed in the Sea and Fix You the group left the stage to deafening cheers from the public.