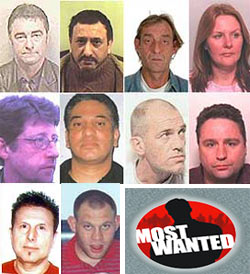 Britain asks for help in finding 10 dangerous criminals in the Costa Blanca
The British authorities have published the name of ten dangerous criminals which they believe could be living in the area around Alicante and 'Operation Capture' which began in the Spanish Costa del Sol has now spread to the Costa Blanca.
Lord Ashcroft, the founder of Crimstoppers, has asked anybody with information about the 10 people on the list to contact this organisation immediately and has called on British citizens living in the Costa Blanca to be especially vigilant.
Operation Capture 2 which began in October 2006 is a joint project which includes Crimestoppers, the Serious Organized Crime Agency (SOCA), the British Embassy in Madrid and the Spanish authorities.

It is a campaign on the internet which works through the section called 'Most Wanted' on the Crimestoppers website.www.crimestoppers-uk.org.
In fact 13 fugitives have already been detained out of 30 names published on the list of the 'Most Wanted' during the first phase of the operation, thanks to the close collaboration between the Spanish authorities and the British organisations listed above.
According to the British ambassador in Madrid, Denise Holt, both British and Spanish residents living in Spanish coastal resorts did a great job in 2006 in helping to localize several well known criminals. He also praised the good work of all organisations involved in the operation and their close cooperation.

Holt has now called on the public once again to help find the 10 people who have been placed on the 'Most Wanted' list.