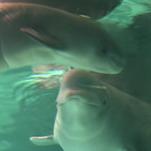 Birth in Valencia of the first beluga whale to be born in captivity in Europe.
In the early hours of this morning beluga whale Yulka, one of the star attractions of Valencia's Oceanografic center, gave birth to her first baby. It is the first time a beluga whale has been born in captivity in Europe, and baby and mother are said to be very well as they swim around together in their pool (see photo).
The Artic section of the Oceongrafic, which is home to the baluga whales, has been closed to the public since yesterday afternoon and will remain so as the baby gets used to its new home. Vets will be keeping a close eye on the two whales at least until Yulka starts feeding her baby daughter, something which is vital for the calf's survival.
Yulka, at just 8 years of age, is the youngest whale to have ever given birth in captivity.

She conceived naturally, which is also unusual, and her pregnancy was a long 16 months.
Related links:
Guide to Valencia
Oceangrafic