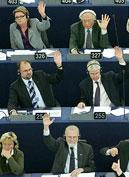 The EU member states give their backing to the Basque peace process in Spain
Spain's Socialist government received the support of the European Parliament today as the majority voted to support Rodriguez Zapatero's peace talks with ETA and voted against a resolution put forward by Spanish opposition PP party rejecting talks between government and ETA.
It was a narrow victory – 321 in favour, 311 against and 24 abstentions, but nevertheless a very important one for the Spanish government facing unprecedented opposition from the Popular Party over the whole issue of the peace process. Last week one PP senator accused the PSOE party of surrending to terrorism and initiating conversations with ETA when the terrorists were planning the assessination of an ex-member of the organisation, and government spokesmen called the accusations "vile" while the public prosecutor insinuated that some groups in Spain did not actually want the peace process to succeed.

Both parties have been at loggerheads ever since Zapatero sought the backing of congress to initiate talks with ETA, some months after the terrorists called a ceasefire. Zapatero's appeals to the Popular Party to join all other Spanish parties in supporting the peace talks have fallen on dead ears, and relations have reached yet another low.
The fact that French police believe ETA is responsible for the theft of over 300 military arms this week will add further strength to the argument that the terrorists are getting tired at the lack of progress being made in the peace talks, although some analysts compare it to difficulties in the Northern Ireland peace process when factions of the IRA opposed peace talks.

The debate in the European Parliament was a heated one, but the prevailing view was that the Spanish Government should be allowed to try to achieve peace by negotiation. The European Commission also supported the motion. The EU Justice Commissioner Franco Frattini participated in the debate urging European MPs to back the motion and arguing that Spain's "tenacity and conviction in combating terrorism from the respect of democracy and the rule of law has paid off".
Related:
Spain's main political parties clash over Basque peace process
Negotiations between government and ETA
Spanish government and ETA negotiate possible ceasefire
Government proposes talks with ETA
Gerry Adams interviewed during his visit to Spain