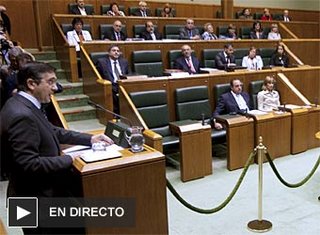 New Basque President, Patxi Lope, sworn in today
The Basque Parliament in Vitoria is paying host this morning to 500 guests and 200 journalists for the investiture of the new Basque President, Patxi Lopez. Media interest in the event is very high and representatives from the Al Jazeera television network will be amongst some of the journalists attending today's ceremony as well as many others from around the world. For the first time in it's history the Basque Region will have a non-separatist Government led by López, leader of the Basque Socialist Party, and supported by the Basque Popular Party.
Today's session is attended by the Secretary of Organization for PSOE, Leire Pajín, and the president of the PP, Mariano Rajoy.

Spain's new Minister for Public Works, José Blanco, President of the Senate, Javier Rojo, and the President of the PNV, Iñigo Urkullu are also among the guests witnessing this historic event.
The official naming of the new Basque President (Lehendakari) will be published in the Official Bulletin of the Basque Country on Thursday 7th May which is when Lopez is expected to take possession in a ceremony Gernika attended by the third Vice-president and Minister for Territorial Policy, Manuel Chaves.
This afternoon the new Lehendakari will officially publish the composition of his new government which will be made up of 10 regional ministers, 4 of whom will be independent (i.e. not members of the Basque Socialist Party or any other political organisation).

Lopez is anxious to refute claims from the PNV nationalist party that his government will be the most biased and confrontational in the history of Basque autonomy.
In his speech this morning, Patxi López claimed that the change that he represents is a "change that demonstrates the maturity of Basque citizens" and he has called on the Basque parliament to "delegitimise" those who refuse to criticise terrorism. López asked for the support of all members of parliament to unite society and end political and institutional confrontation to enable government to direct policy towards solving the real problems of the people.