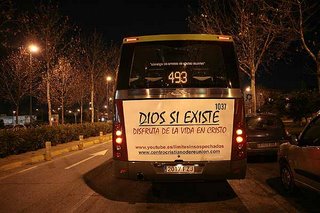 Evangelists in counter attack against atheist publicity campaign
Evangelists have decided to take action against an atheist publicity campaign which began in London using a bus with the slogan 'God probably doesn't exist. Don't worry – enjoy your life'.
In a counter attack against this publicity campaign a bus has been circulating an area to the south of Madrid in defence of the Christian faith. The pro Christian bus carries the slogan 'God exists. Enjoy a Christian life'.
The atheist publicity campaign is funded by private donations made to a humanitarian association. It began in London on 25th December and is due to arrive in Barcelona next week and could even travel to Madrid according to the advertising company Publisistemas which is in charge of organizing advertising on buses belonging to the Municipal Transport Company.

At present this company is in negotiations with the Association of Atheists from Madrid and Barcelona who are behind the idea.
In order to beat the atheists at their own game a campaign in favour of the Christian faith is being promoted by the Centro Cristiano de Reunión using a bus with pro-Christian slogans which is currently circulating Fuenlabrada, Leganés and Aluche until the 30th March.
The Evangelical priest, Francisco Rubiales, who is a member of the organisation told Europa Press that 'we want to communicate to the world that Christ exists' and that believing in the Christian faith is the way to a better life.

He said that everybody should be able to freely express their opinions and that included his organization as well.
Rubiales went on to say that 'we respect all institutions that publicly demonstrate their opinions, ideas and beliefs' and said that in the same way the Centro Cristiano de Reunión wanted to reach out to citizens using the same public platform and 'make them believe that the only full and rich way of life is that which follows Jesus Christ'.