Yesterday Madrid's Complutense University organised a party to celebrate the 75th anniversary of votes for women in Spain.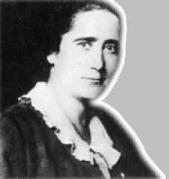 Seventy five years ago a woman called Clara Campoamor gave a passionate speech in the Spanish parliament defending the right of women to vote, following which the Republican government passed a new law giving women this right. Until then women had been considered by the Spanish governments to be unfit to participate in elections because of lack of experience or because their vote would supposedly be too heavily influenced by the opinion of the Catholic Church. However Campomor, quoting Humboldt, argued that the only way women could learn how to excercise freedom was by becoming part of the system.
Unfortunately, as events would have it, Spanish women had very little time to exercise their new right, as the Civil War broke out just two years later, and when Franco set up his dictatorship on winning the war, neither men nor women were to enjoy the right to participate in democratic elections for the next forty years.

Yesterday the Complutense University in Madrid organised a festival to commemorate the anniversary with concerts, theatre, readings of poems and stories, cinema and art exhibitions.
Related News from Spain articles:
Women in Spain
Smoking among Spanish women on the rise
Domestic violence and women's rights in Spain
Exploitation of Spanish grandmothers