We have been touring in Scotland for the last two weeks, leaving the car at home and travelling by coach, steam and diesel train on land, the paddle boat P.S.Waverley on water and staying in two hotels and three Bed and Breakfast homes.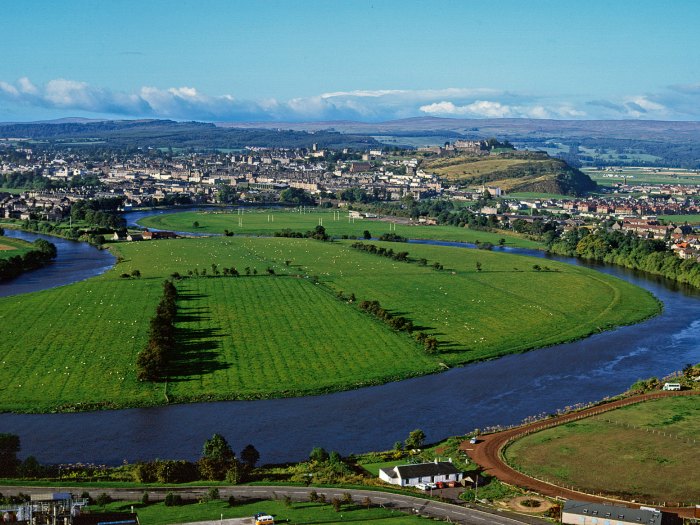 As on previous visits we were moved by the beauty of the low hills and lochs of Central Scotland and the dramatic mountains of the Grampian range. Our last destination was Inverness, (see 27/10/06) but earlier we had stayed for 36 hours in Stirling, the country's second smallest city. We were very impressed.
The city is full of the echoes of Scotland's turbulent and violent history. Situated on the narrowest part of Scotland, it has been the battleground for pre-eminence between warring factions within the country in its long search for unity, and the many battles between Scotland and England, party fuelled by Catholic and Protestant rivalry.

Many fine buildings built of local stone grace the older part of the town and a visitor is helped to admire and understand them by metal plaques, telling their history and that of the notables who lived in or built them.
The Chuch of the Holy Rude (i.e. Cross) dates back to the mid 15th. Century. It has a superb timber roof. King James V1 was baptised there, and his mother Mary Queen of Scots was a regular worshipper. Her arch rival John Knox preached one of his fiery sermons there, presumably in her absence. In 1656 there was a dispute between two clerics, and the Council – to ease the situation– built a wall across the church so that they and their supporters could worship in glorious isolation from each other.

It was only demolished in 1936. Can an argument outlive its proponents for so long?!
We visited the Castle of course, perfectly positioned for defence and attack, of which there was much during the never ending wars with the English. It had a dual function – as a stronghold but also as the favourite home of Stewart Kings and Queens. Now undergoing extensive restoration, we were able to see some of the progress.
Set apart from the town, is the high monument in memory of William Wallace famed for his victory against the English at the battle of Stirling Bridge in 1297. It was a bit of a battle to build the monument – enthusiasts fell out with each other and although the project began in the 1830's it wasn't sufficiently completed for the public to view until 1861.

We were assured that the original Wallace – who had an interesting history – was nothing like the Wallace of the film 'Braveheart'.
Stirling : a very interesting city, who's history is bound up with Scotland's extraordinary pilgrimage over a thousand years, to find itself.
B.R.