This was one of two new cities for me, discovered during a recent holiday in Tuscany with members of my family. San Gimignano sits on the medieval Via Francigena.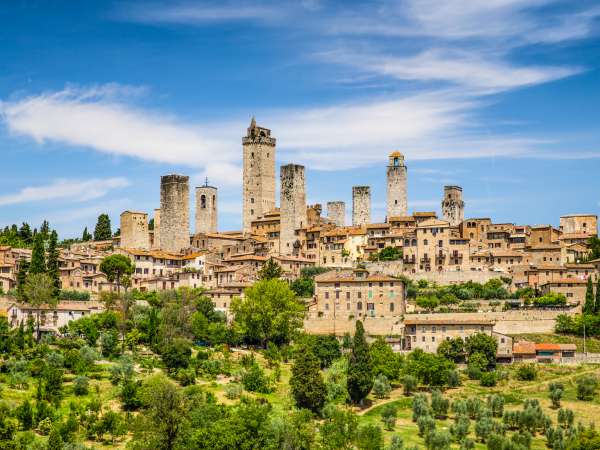 So in the Middle Ages and Renaissance eras, it was a stopping point for Catholic pilgrims on their way to Rome, and was linked to Canterbury after its archbishop used the route in the ninth century. It has never had the popularity – perhaps the mysticism and glamour – of Camino de Santiago, the Way of St.James. However partly because of the traffic of pilgrims the city developed over the years, as did the trade of agricultural products from the fertile neighboring hills.

When we were there it certainly had a prosperous feel.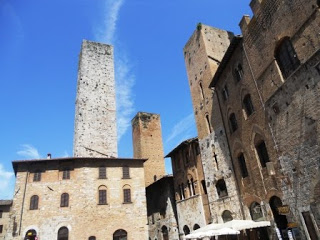 Apparently in 1199 during the city's greatest period of splendour it became independent from the bishops of Volterra but the rivalry between the two powerful families, the Guelphs and the Ghibellines, although it divided the community was insufficient to prevent some wonderful artworks and architecture influenced by Pisa, Sienna and Florence, enhancing the town.
One notable aspect of the building developments was the extraordinary spate of towers that were erected.

It seems to have become a virility symbol or at least a sign of power and prosperity. Eventually there were seventy two of them but now only fourteen remain, one of which is open to the public. We have the copy of a contemporary painting of some of them. The towers have become the city's international symbol.
I see that a fictionalised version of San Gimignano is featured in E.M. Forster's 1905 novel, Where Angels Fear to Tread renamed as Monteriano, and the 1999 film Tea with Mussolini,about the plight of English and American expatriate women in Italy during World War II, was filmed in part of the city.

Like so many parts of Europe the city was decimated by the Black Death in the middle of the fourteenth century and became a secondary of Florence until its status as a centre of tourism was recognised in the nineteenth century. And the tourism flourishes today! There were huge numbers of us as we entered the heart of the town with its four squares, and main streets Via San Matteo and Via San Giovanni,crossing the city from north to south. We admired the buildings, were tempted by the proliferation of tourist shops, ate well in an excellent restaurant– and enjoyed its famed ('the best in Italy') ice cream.
B.R.