A beautiful panoramic view of the mountains and the town itself
Some cities are so much themselves that they are incomparable with anywhere else. This is one of them. On a visit to Iceland some years ago, we approached the city from the sea, traveling on a huge cargo ship, valuing the sudden calm after a very rough crossing, having left the port of Immingham on the bank of the Humber River four days previously. It made an impressive arrival, for Reykjavik is spread across a peninsula and we had a panoramic view of the mountains and the town itself, the Atlantic Ocean bordering the city on almost all sides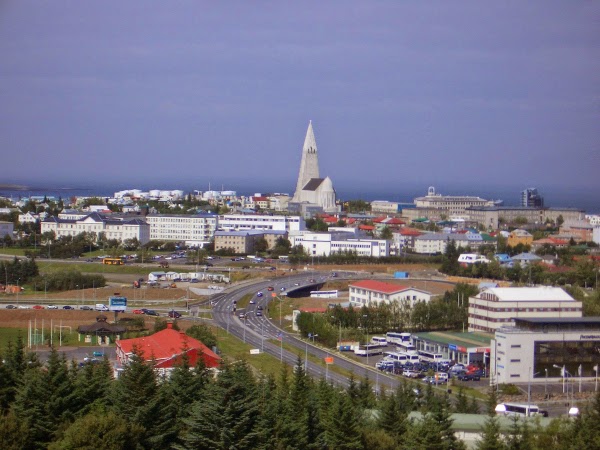 The world's northernmost capital
The world's northernmost capital and with a small population of less than 200,000 ( 60% of Iceland's total ) the city sells itself as a centre of nightlife, and the packaged weekend trips especially for young people have become a must for the jet set.

The nights in summer hardly exist of course. It never gets really dark and should I have wanted to, I could have taken photos without a flash light at 2 am in the morning. You see the sun set and then almost immediately rise again. (The alternative in winter of course is that there isn't much daylight!).
A crystal-like western horizon.
We were surprised at the lack of great buildings, and many of the houses are built in corrugated iron painted in lovely pastel shades.

We stayed in one such house which like many others are made into bed and breakfast accommodation during the holiday season. Of Celtic and Norwegian origin, local people have their own language but many also speak English. From the town you can see the majestic Mt. Esja and on a sunny day, the Snaefellsjokull glacier appears crystal-like on the western horizon. The city is only slightly south of the Arctic Circle and whilst it claims to have a temperate climate, when we visited in July it was fiercely cold!
A young country with an old culture
Food can be expensive because the volcanic basis of the island severely limits agriculture and many of the perishable goods have to be imported. But there is pure energy at the heart of the city whether from the boiling thermal energy underground or the natural green energy within the city and around it.

Bathing in the hot springs here and elsewhere in Iceland is a tourist must. We enjoyed visiting the National Gallery and the Art Museum, helping us to fill in the peculiar character of the city and the wider country. An old culture going back to the Vikings yet a young country, the land only 20M years old and changing all the time, and the nation only politically independent since 1940. And the bad news? Reykjavik has an average of 213 rainy days a year.
Bryan