I have been to this British city on several occasions in the course of my work. Just now it is very much in the news.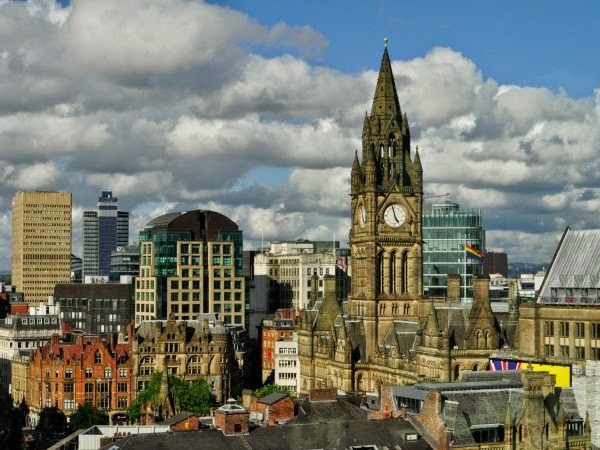 On the verge of a general election the present coalition government has identified Greater Manchester with its population of 2.7million as a city region to be given more 'local decision-making', thereby turning it into a 'northern powerhouse'. The aim is to deliver increased economic growth and improve public services. This is all part of the Conservative party's discovery that there is more to the U.

K. than London. Other major English cities (of which there are eight, four of whom we have lived in and four of whom we have visited ) will no doubt be looking carefully and critically at the project, which from a first reading looks as if, whilst it is strong on aspiration, is weak on detail.
But there is more to Manchester than governance. It is the home of the National Football Museum which claims to be have the 'finest and most significent collection of objects and associated evidence connected with the development of football around the world'. And of course as part of its fame as a sporting centre, it has two premier foorball clubs, City and United, providing a source of keen rivalry between its fans. It is also the home of the Halle Orchestra, which tours the country and beyond, but is more often to be heard in Manchester's Bridgewater Hall,which was opened in September 1996.

The orchestra is named after its founder, Sir Charles Halle who moved to the city in 1853 and for me is linked for ever to the name of Sir John Barbarolli, made chief conducter in 1943, saving it from dissolution, and remaining loyal to his players for the next 25 years. Sir Mark Elder is a worthy successor and will remain in post until at least 2020.
If Wikipeadia is to be believed, Manchester is the world's first industrialised city, created by the development of its textile manufacture at the turn of the 19th. century. It is now a centre of research in electronics and science, and this is where Ernest Rutherford, Chair of Physics at Manchester University, split the atom in 1917. It also like any great city, has a lively social scene. The Canal Street area is the centre of Manchester's gay community and attracts 20,000 visitors each weekend.

Today it is the third most visited city in the U.K. after London and Edinburgh.
…..And it has a very good airport!
B.R.