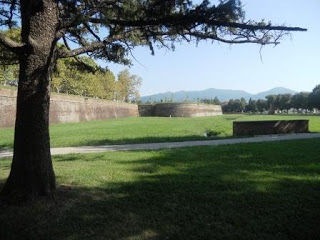 During our memorable summer holiday this summer, a few kilometres south of Florence in beautiful countryside, we had an evening visit to Lucca. It was the second time my wife and I had been there, drawn the first time by its reputation as the birthplace of Puccini in 1858. The house he lived in for some years is now preserved as a museum in his memory. After his studies at the Milan Conservatory,and from 1891 onwards,Puccini spent most of his time at Torre del Lago, a small community about twenty kilometres from Lucca, although he regularly visited his old home where many generations of his family with its strong musical tradition had lived.

By 1900 he had acquired land and built a villa on the lake. Now known as the "Villa Museo Puccini and owned by his granddaughter, it is open to the public.
Lucca is a perfect example of an old Tuscan town with broad open streets and fine buildings. The town's website says it all. 'Imagine a beautiful little Tuscan town protected by massively thick 16th-century walls, featuring some of Italy's finest medieval and Renaissance architecture, superb dining, antique markets, classical and rock music festivals, easy access to stunning nearby villas in the surrounding hills and with endless beaches less than half an hour away. Lucca is one of Tuscany's best-kept secrets.'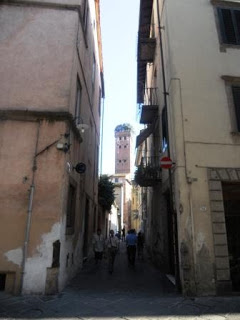 There was no sense of a hidden secret when we were there! Even in late afternoon the town was full of tourists such as ourselves –characterised, claims the website, as more discriminating than the crowds who flock to Florence and Pisa! For me the sensational feature of the town are these ancient walls that ring the city.

The ramparts built in the 16th century for defense rise from the level ground three or four metres high and are wide enough for walkers and cyclists to stroll along the pathway as they look at the plains on one side and the red-roofed houses of the city on the other. There are trees lining the pathway, adding to the unique experience of walking around and above a beautiful Tuscan town.
Lucca was a Roman colony in the second century and the rectangular grid of its historical centre preserves the Roman street plan to this day.

Used to being occupied and taken over by invading armies, in 1160 it constituted itself with a charter as an independent commune. For almost 500 years, it remained a self-governing republic. Dante (c1265-1321) – who at one time during his tempestuous life is supposed to have lived in Lucca – includes many references in his allegory 'Divine Comedy to the great feudal families of that period.
Oh dear. Writing about Lucca makes me want to go back there. Certainly one of my most favourite places.
B.R.