We are just back from a weekend visit to this splendid city, staying with dear friends who add to their many distinctions the fact that they live in the house where the great Victorian statesman William Gladstone was born in 1809.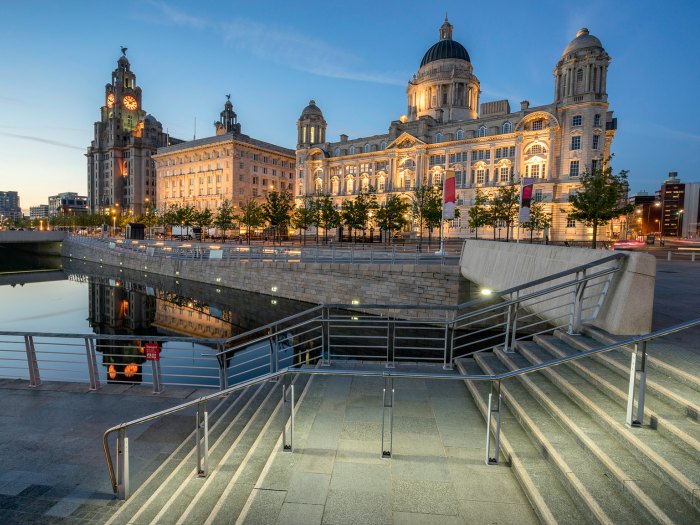 In many ways we were re-visiting the information on my blog of July 4th. 2008, as well as catching up on family news in a friendship that has lasted 50 years.
There is a large picture of the craggy politician in the entrance to their flat. He was a remarkable man. Prime minister of the U.K. four times, and Chancellor of the Exchequer on three occasions, Gladstone was a keen advocate of home rule for Ireland, and a bitter rival of the urbane Conservative leader, Benjamin Disraeli who referred to him as 'God's only mistake'.

(There is a vague but interesting comparison in my mind between those two rivals and between dogged Gordon Brown the present P.M. and waspish David Cameron, the Conservative who yearns to succeed him).
As we visited the dock area of the city, a mist lifted from the sea and partly enveloped the surrounding area on a fiercely cold morning. We found the Afro Modern exhibition at the Tate Gallery – an exploration of black cultures around the Atlantic – illuminating and moving, though the journey through many cultures was sometimes a little confusing, and information at knee height wasn't helpful. There were some wonderful sculptures, and at no times were we able to escape the city's baleful legacy as a centre of the slave trade.

Our visit to the Walker Gallery was even more impressive for me. Designed by a local architect, the museum was opened in 1877 and named after its founding benefactor, Sir Andrew Barclay Walker who made his money as a brewer. It's a beautiful building in itself and houses one of the largest permanent exhibitions in the U.K. outside of London. I would like to spend a day there! We used our time visiting a special exhibition of work by women artists from the 18th century to the present day. This superb exhibition lasts until 14th March.
Liverpool's Royal Philharmonic Orchestra must be the pride of the city and, under its brilliant young Russian chief conductor, Vasily Petrenko, is amongst the very finest of British orchestras. We heard them in an eclectic programme of music by Hindemith, Bartok and Rachmaninov.

A privilege to be there.
In characteristic bronze brick, Liverpool's buildings are a constant delight to me, and add to the sense of its substantial personality, even if some of the newer experimental buildings seem to wage war against them. And always there are surprises. We went for a walk in the park beside and below the Anglican Cathedral with its own spring in a corner. Mysterious and magical, even on a freezingly cold morning.
Bryan