Liverpool is one of Britain's great cities. Still a major port, much of its 18th.century wealth and expansion was due to traffic with mainland Europe and close links with the Atlantic slave trade.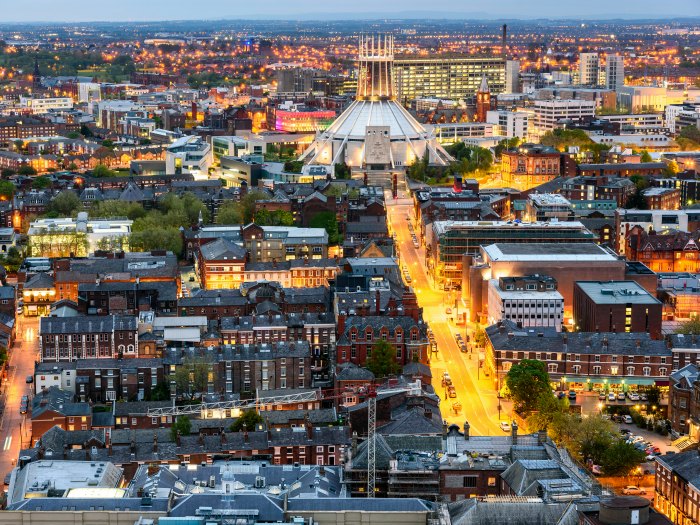 By the early 19th century as much as 40% of world trade passed through Liverpool docks. Technically part of the county of Lancashire, the city has a powerful sense of itself, its inhabitants often referred to as Liverpudlians or Scousers, named after a traditional meal of meat stew. Although its population is drawn from across the world and particularly from Ireland, local people have a characteristic accent and dialect.

Without looking at the great buildings and the two companiable cathedrals which greet each other across the city, once you hear a local person speak, you know where you are.
The city was badly bombed during the 39-45 war and there is a fitting link with the German city of Cologne, also devastated by aerial bombardment. The city remained in a desolate state for many years afterwards and clearance and re-building was slow. There is a movement marked by many disappointments for using the partially derelict St. Luke's Church as a Peace Centre. Enthusiasm for the scheme by the local branch of the United Nations Association has gained the interest but so far insufficient financial support of Liverpool Council.
In the sixties the city was famous for what became known as the Merseybeat, with loads of pop groups composing and playing music that became widely popular, the most notable group of course being The Beatles.

Their popularity continues to be a magnet to tourists, as do the many other cultural attractions of the city, which for me include the Tate Liverpool and Walker Art Galleries and the Royal Liverpool Philharmonic Orchestra under its charismatic Russian conductor, Vasily Petrenko.
Liverpool is sharing with Stavanger in Norway, the distinction of being the 2008 European City of Culture.
I see that the Liverpool Playhouse is currently staging a musical, named after the city's most famous hotel and called 'Once Upon A Time at the Adelphi'. Reviewing it today, The Guardian's critic suggests that the musical's theme song 'Once in a Lifetime' should be 'designated the official anthem of the Capital of Culture forthwith'.

Certainly no life is complete without a visit to Liverpool.
B.R.