We ended our recent package tour of the western part of Turkey by spending three nights in a city I have wanted to visit for a long time.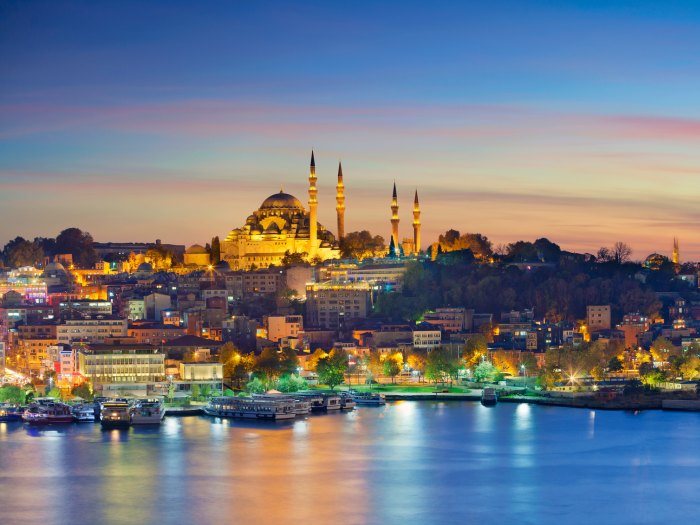 Unable to do anything like justice to it in a couple of days, even less is it possible to give a sense of the place in a couple of blogs! With a teeming population of 15M and a history that goes back through the Ottoman, Byzantine and Roman empires, with buildings that represent so much Christian and Moslem history, it was for me a completely new world of sights, sounds, smells, food and street life.
We visited some of the major sites – the Blue Mosque, the Hippodrome – no longer a place of sport and display but now a public meeting area, the Grand Bazaar, the Spices Bazaar, The Haghia Sophia – the greatest church in Christendom until converted into a mosque in the 15th century, and the Topkapi Palace, the latter two both disappointing me a little.

Immensely impressive in size and setting, I had hoped to get a sense of numinous in the church/mosque, and a feeling of what it must have been like when the Sultan and his wives and courtiers lived there. Instead both have been turned into museums.
One evening we were taken to a 'typical' Turkish restaurant, in a road consisting entirely of such eating places, many of them bursting out into the street and patronised by local people. During our meal we were entertained by a music group of six men with loud drums, and a violin etc, accompanied notably a belly dancer who moed from one male to another, half enveloping them and clicking her tiny cymbals until we yielded to her charms(i.

e.'extortion'), and gave her money. I enjoyed the food.
This was but one example of the constant hassling by street vendors as we moved around the city. With the exception of the restaurant, whilst it was an inevitable part of the scene, we found it not at all threatening. People accepted our 'no thank you's' , and moved on. All of them were men, many of whom thronged the streets. Where there were women, they were always together in a tight bunch and mostly, though not always wearing Moslem dress. No burkes.
A café we went to near our hotel – the excellent 'Titanic'(which permanently shows the 1997 film on its TV's!) was typical of the division of the sexes, but also of the importance of family life. An elderly man, obviously the father, his two sons and a young grandson served us (excellent falafel) – the cooking done by a woman out of sight.

We talked to the father, a Palestinian. He had been in London in 1984. People always asked us where we came from and tried to make a connection….more next time.
Bryan