There was no time to get to the coast, which has a tourist industry of its own, but we had a mini-cruise on the Bosphorus, and it became apparent at just how huge and varied this amazing city is.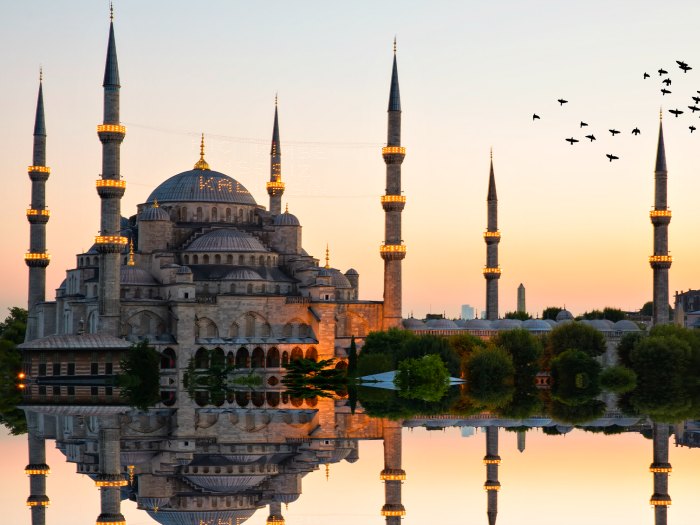 The river was bordered by a seemingly endless number of magnificent houses and palaces – and numerous mosques, a castle as well –giving us an insight into the city's more fashionable metropolitan life, which didn't fit into our modest six day tour. I had been surprised at the general condition of buildings in the main city area, some very dilapidated or derelict and many constructed it seemed of concrete rather than indigenous materials.

Apparently in the past many of the older houses were made of wood, and were considered therefore to be more able to survive the earthquake tremors which are frequent in this area. In fact an earthquake in Izmit in 1999 resulted in 18,000 deaths and was, with a magnitude of 7.4, the most recent quake of a series, along the plate border between the Anatolian and the Eurasian Plate from east to west. That could mean the next one could take place south of Istanbul. The city has, thus, a threatening earthquake risk.
Our visit was in the Spring, before the warmer weather which brings in the crowds of visitors. But it was still very busy when we were there, with a lot of street life from local people which I referred to in my previous blog. There was a sense of pride amongst them we felt, men in friendly clusters, often sitting in public places in animated conversation, or just sitting and watching – tourists like us no doubt! Women were less visible and usually in traditional dress, but there were young couples too, arm in arm, doing as they wished despite the legacy of history with its tension between a determinedly secular administration and a majority population of practising Moslems, making a more European statement in dress and manner.

There was a buzz about the city which we enjoyed.
One of the things we learned. Tulips originated in Turkey and they were evident everywhere in the city, as colourful if not as variegated as in Holland. It's a matter of pride that the Dutch borrowed the idea. Another surprise was that Turkish Delight, which was on sale everywhere, is much more interesting with many flavours, than the sickly lumps I remember as a child.

I rather wish we had brought more of then from the Spice Market than we did. One couple in our party bought a carpet in the Bazaar. Three cushion covers sufficed for us!
B.R.