My first visit to this notable German city was in 1994 and I wrote an enthusiastic blog about it in June 2006 (see Frankfurt). I came then as part of a sabbatical break during which I visited five continental cites.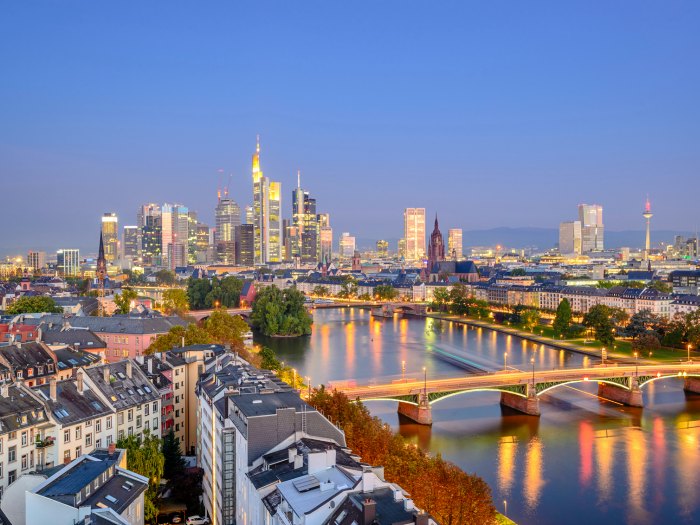 I was looking for Churches that have significant social projects; wanting to learn from their experience, which hopefully I did. In Frankfurt I stayed with K.P., a Lutheran pastor with responsibility for several care homes for the elderly. One consequence was that we have become good friends. J. and I came home a few days ago, after an immensely enjoyable four days with him.

There has been, and continues to be, massive building schemes going on in the city and there are huge cranes everywhere; it felt as if it was city under reconstruction. We had no sense of the financial crises that has hit so much of the prosperous world. Frankfurt gives the impression of – after all it is a major financial centre – of being very prosperous indeed. We sensed a contentment about the place and its people.
Skyscrapers define the city, several of them built since I was there. One of them – the Comererzbank Tower is described in a City Guide as Europe's 'momentarily' highest commercial building at 259 metres. The moment is over! In 2005 it was surpassed by the Triumph-Palace in Moscow in 2005 and now Shard London Bridge in London. We visited an area by the river Main, now being developed from dock warehouses into the site of the new European Central Bank, and that will include a 185-metre-skyscraper.

Earlier we ascended another high building, and on a bright clear day, delighted in a panoramic view of the city and its environs.
The Old Opera House has a baroque exterior like a wedding cake, but inside is a handsomely redeveloped concert hall in a typical russet brown décor favoured by many of the older buildings. We sat outside for an evening meal and watched a stream of appropriately soberly dressed men as they entered the hall for a Concert sponsored by one of the local banks. Outside several limousines were parked to whisk the men in suits home when the concert – and perhaps the hospitality – was over. There is an interesting mix of fine old, reconstructed, and new buildings, some of which we met on a walking tour one morning.

It felt as though we were in Little Italy at times, for we saw a lot of cafes selling ice cream, well patronised by large numbers of people, one just near to where we were staying – for the locals the equivalent of an English local pub. We joined them and enjoyed both the ice cream and the shelter from a brief but sudden thunder storm.
We like Frankfurt!
B.R.