We visited two other Gaudi buildings, Casa Mila La Pedera and Casa Batllo, both showing his characteristic rejection of traditional straight lines, adopting a flowing open design to the rooms and especially to the windows, only one of the ways in which light and ventilation entered the rooms.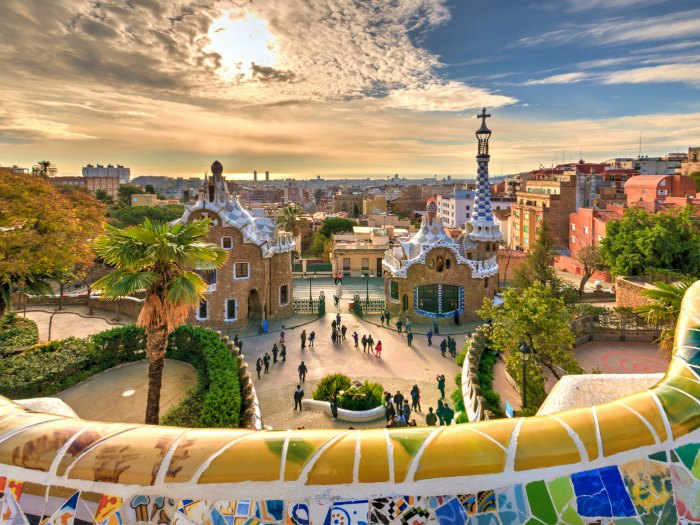 His trademark of originality was nowhere more apparent than in the roofs of both buildings, especially La Pedera with its walkway and huge personalised chimney pots!
We visited two cathedrals, the traditional gothic one, its nave ringed round with a series of gilded chapels and a high decorated alter, conspicuously lacking the light and airiness of the Sagrada Familia.

We were more impressed with the Santa Maria del Mar, a beautiful and important 14th-century church, considered to be the finest and most complete example of Catalan Gothic architecture anywhere, its tall interior and soaring vertical lines said to have influenced Gaudi. I loved the spacious simplicity of the building. In contrast we also visited the Monastery of Sant Pau del Camp (St. Paul of the Countryside – the church was once surrounded by green fields). It's the oldest church in Barcelona and a rare example of Romanesque architecture.
The city is much more than an archive of splendid buildings. We had a delightful last afternoon there walking by the immense red brick Arc de Triomf (our compass point for our trip), created for the 1888 Great Exhibition of Barcelona, and the portal to the Park de la Ciutadella, where we enjoyed seeing local families and young people sitting in the sunshine and having fun rowing little boats.

On another day and like all good tourists we joined the crowds and walked down La Ramblas and then on to St.Josephs Market, the largest covered market in Europe, with amazing displays of food, meat and fish. There are of course many good eating places around the city, reasonably priced as well as other more expensive ones. We had a delightful lunch overlooking the Marina.
The only Museum we had time for was the one devoted to Picasso, set in the heart of the old city and made up of a conglomeration of buildings, including one that was once a palace. Although it houses quite a small selection of his work compared to the one in Madrid, and concentrates on his blue and rose periods, it shows how he reinterpreted the work of old masters and was influenced by them.

On our previous hasty visit we had been to the Miro gallery, but the massive Barcelona Museum will have to wait another time – and the Chocolate Museum!
We felt there was an unusual sense of composure about this city that made us feel welcome. My wife and I try always to visit new places, rather than return to ones already visited. In the case of Barcelona we may have to break the custom!
B.R.