The novelist Phillip Hensher, was reviewing a new book, 'The Leonard Bernstein Letters' edited by Nigel Simeone) at the weekend, claiming that the conductor and composer if not actually over-rated, was certainly variable . Conceding that Bernstein composed 'at least one work of unquestionable greatness in 'West Side Story', he suggests that 'his style as a conductor is 'rapidly passing into the age of historic curiosity'. It is generally agreed that as he got older his personal expressiveness divided critical opinion, and his recording of Elgar's Enigma Variations for example is often quoted as the slowest Nimrod variation ever. And Hensher can't forgive him for his over his excessively mannered recordings of Mozart and Haydn symphonies.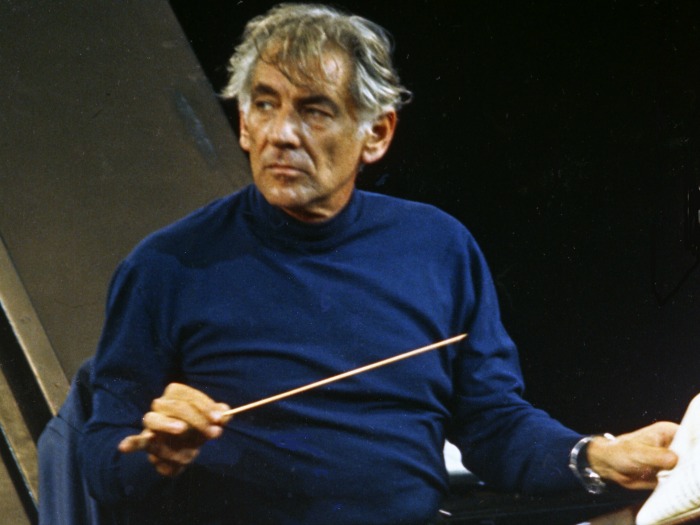 I heard him conduct a concert at Watford Town hall I think in 1946, when he was a young man at the beginning of his illustrious career.

I can't remember the orchestra – perhaps the London Philharmonic, although later in his life he became a special favourite of the London Symphony. I remember him as a dapper figure on the rostrum, conducting without a baton and having poor authority over the orchestra which seemed to be watching the first violinist rather than the conductor, playing the tempo as he beat his bow on his music stand.
The soloist was the Australian soprano, Marjorie Lawrence who, having suffered from polio in 1941 sang from a wheel chair. She may have been singing Wagner (her speciality) or Richard Strauss, but at a climax, Bernstein urged the brass to play so loudly that the soloist was entirely drowned out. As a budding music lover of 15, I was not impressed.

But plenty of others with greater knowledge have been enthusiasts of his work throughout his career.
There's no doubt that he was a musical character, lived a colourful personal life, became very wealthy, and was able to have an extravagant social life mixing with the great and the famous at the same time as being a social reformer with left wing tendencies (which led to the popularisation of «radical chic" as a critical term). But as an artist he had, and surely still has, many admirers. His association with major American and European orchestras, his many recordings and awards, the originality of his compositions and his influence on other artists means that he was considerably more then' one of those rare observant egoists' as Hensher claims.
Certainly that excellent conductor Marin Alsop would say so.

She never loses an opportunity to describe him as teacher,mentor and friend. B.