An Air Europa plane travelling from Glasgow to Lanzarote this morning reportedly went off the runway when landing and almost ended up in the sea. The airport has told Spanish press that all the passangers were transferred from the plane to the airport terminal and that nobody was injured in the incident.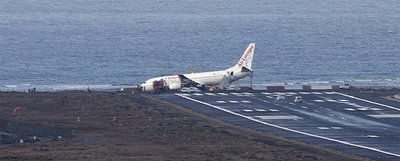 Passengers told the media that the Air Europa plane, a Boeing 737, touched down at great speed and that during landing they noticed strong vibrations in the wings. Air Europa claimed that the plane did not actually leave the runway, although the company did admit that it stopped just a few metres from the sea.

The same source said the incident was due to destabilisation at the moment of landing which could have been caused by atmospheric conditions, but they did not go into details.
Lanzarote airport was closed for some time after the incident. Paradoxically, the accident has happened just two days after the airport carried out an accident drill to demonstrate how its emergency services would act in the face of an accident and which was attended by local authorities and media.