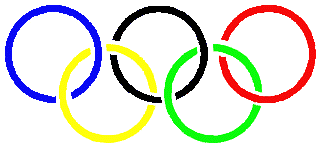 'Amazing'; 'Incredible'; 'Phenomenal'. These have been three of the most often used words during the 'extraordinary' (here's another) Olympic Games held in London and now in its second week. It all began with the opening ceremony which was like none other and was typically British in its mixture of sentiment, quirkiness and social comment, with a welcome absence of national jingoism peddled by some of the tabloids.. Surprise followed surprise in that long evening, the highlights (for me) being the spoof alliance between the Queen and James Bond and the 'astonishing' (a fifth word) ignition and elevation of the cauldron at the end.

The 'sensation' (another word) has been the success of the host team, our country renamed for the present, as 'G.B'. The first days of the Games started off with usual British fatalism – certainly being ranked in the earlier stages in the mid-twenties was no great encouragement, but then the successes began to flow and now after a 'stunning' (number seven) weekend, we are the third country behind the U.S.A. and China. Soon the miracles must end, but meanwhile we 'can hold our heads up high' (another often used phrase). And return to the real world.
The euphoria has been uncharacteristic of the British, especially double-recession Britain enduring not only economic collapse, corporate corruption and inept government, but lousy weather conditions as well.

Instead of waiting for the next heavy shower we have been anticipating the next Olympic victory. How long we shall be lifted above the national doldrums is a moot question, but at least we can enjoy the present whilst it lasts. And the TV commentators can continue to use the limited lexicon of enthusiastic words we have all been employing.
One of the most moving experiences has been the dedication of so many of the athletes of all nationalities, and then their astonishment at their success and the way they have insisted on thanking their coaches and their families – and their fans. Their dedication has been matched with humility. I have not heard anyone say 'I have earned it', but many competitors say, 'I can't believe it'.
And what about us old ones? Well, there has been delight in the achievements of the young, but it's also interesting to see how many older people have been mentoring the young, and have been identified by winners as collaborators in their success.

They have often been the people they have gone to immediately after their victories. The hardest question for retired people can sometimes be – 'what can I do now'. No such problem for these coaches. They have been celebrating their old skills, and replicating them in a new sporting generation.
Bryan