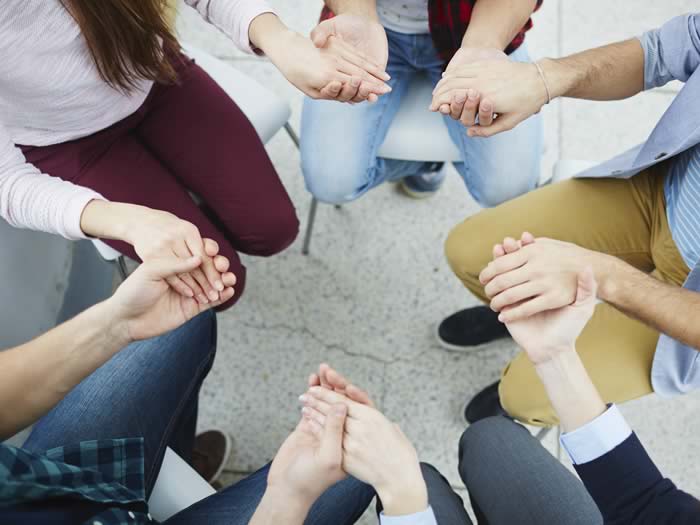 January 18th-25th2013
The Church of South India, founded in 1947, is a united church of Anglican and nonconformist churches and it is appropriate that the liturgy for this year's Christian Unity Week should have been prepared by the Indian S.

C.M. The service begins with a poem by Rabindranath Tagore, regarded by many as the outstanding creative artist of modern India.
Where the mind is without fear and the head is held high
Where knowledge is free
Where the world has not been broken up into fragments
By narrow domestic walls
Where words come out from the depth of truth
Where tireless striving stretches its arms towards perfection
Where the clear stream of reason has not lost its way
Into the dreary desert sand of dead habit
Where the mind is led forward by thee
Into ever-widening thought and action.

Reading : Colossians 3:12-15
'As God's chosen ones, holy and beloved, clothe yourselves with compassion, kindness, humility, meekness, and patience. Bear with one another and, if anyone has a complaint against another, forgive each other….above all clothe yourselves with love, which binds everyone together in perfect harmony.
And let the peace of Christ rule in your hearts, to which indeed you were called in the one body.'
Paul's letter to the Colossian church is packed full of emotional, visionary images as the apostle writes from his imprisonment, trying from a distance to pastor the Gentile congregation there. Apparently there are all sorts of problems, which are of course hidden from us, but we can guess that a lot of them are about conflict and disunity. Their church is still inspired by the Jesus event, communicated perhaps by people who had actually known him. When we – 2,000 years later –consider Christian unity, the church is in a very different situation from those early years. Yet the unity of the church in all its different traditions has been an aim if never an achievement throughout the years.
I wonder why?  Why should we have ever thought that the church that we inherit and are part of – that great baggage of hopeful, loving but often squabbling people – could ever be structurally united? It's not in the scriptures, written out of and for a different time, and yet for some of us it's in our conscience that the church should not be fragmented. The wish and the sense of need for the church to be one, marks the agonised, persistent plod of the story of our institution and the faith that inspires it: from our beginning until now. But should it?
Is it a vague sense of guilt that keeps alive this quest for togetherness across the denominations, or is it required of us by God that the Church should be one? For the Colossian Christians there is no 'church' as we know it, but a gathering of gentiles who with Paul's help are trying to work out what it means for their relationships with Jews, within the family, between husband and wife, how it affects their moral life and their connection with cosmic realities beyond time. There is a bias in the letter towards unity but it's nothing like the structural unity that the Catholic tradition insists on and ecumenical enthusiasts dream of.
History is against the dream ever being fulfilled. Think first of that first disciple group, who whilst trying hard to understand and be faithful to Jesus, were constantly falling out amongst themselves. 'Enough' cried Jesus when he found them dull and dim. Then later there's the tension between Peter and Paul and James, each of whom had different interpretations of the Jesus event. Remember too the attempts in the next centuries to use the model of imperial Rome to rule the church and run it as a monolithic institution governed from the top, and the way in which years later on using the same method, John Calvin controlled the reformed church in Geneva. Then the reformation itself – a proper attempt to argue for scriptural values as the basis for church government- but then all the consequences  that followed as dissenting churches fell out with each other.
Think too of the massive and continuing split between the Catholic in the west and the Orthodox churches in the east, with quite different cultures, theologies and emphases. We in Methodism have our own story. John Wesley's intended his movement to be a reforming cell in the body politic of Anglicanism, It failed to be so and after his death, it broke up into sects and parties. When the three main parts of Methodism came to together at last in 1932,  the memory was still fresh in people's minds of the time when at the end of the previous century there had been as many as 30 different denominations, all calling themselves Methodist.
In the nineteen sixties and seventies, unity between the Methodists and the Anglicans was a live issue. Proposals had reached the possibility stage. Movements in favour and against were busy presenting their case. Concessions on both sides emphasised the seriousness of the project. I supported it; became an official advocate and spoke at meetings called to discuss the issue. At the time it seemed very important to me and the consequent fellowship with  Anglicans was personally enriching, but now I think I could have spent my time more profitably.
When it came to the vote in 1972, the Methodist Conference risking its own unity said 'yes'; the Anglicans however couldn't reach the necessary majority (that sounds familiar!) and said 'no'. I heard the news when I was with my Anglican colleague and remember how he was moved to tears at the disappointment. More recently, on the 1st.November 2003 a Covenant was signed between the two churches, but at the local level in my limited experience there have been few signs that this has had many practical consequences.
History warns us against impossible dreams and human nature confirms the warning. We are all different and our responses to the Christian idea will differ.
You might argue – as Paul does in his letters – that by grace we have been saved and that therefore there is a power within us which is able to accomplish far more than all we can ask or imagine, and we shouldn't limit what God can do with us and for his church. Paul's letters to the Colossians and the Ephesians could be read as descriptions of the new humanity in Christ, but the very fact that he is proposing a new ideal of people making room for each other in love assumes the fact that diversity not uniformity is at the heart of God's creation and presumably therefore is at the very core of our being. What cannot be achieved within nations, between families, amongst tribes, across countries cannot be achieved in any structural sense between Christians.
A counsel of despair? No, more a recognition of how things are. So what about this week of prayer for Christian unity.? I see it as an invitation to move out of our local isolation; to honour different emphases, to acknowledge that grace, which is love in action, is our common inheritance and gift from God, that differences are there to be honoured and understood rather than to be disputed.
I find the idea of the Trinity difficult but one of its advantages is the idea of plurality held in balance, of unity made up of difference. Although Jesus got exasperated at the slowness of his disciples to move out of their natural thought-frame and move into an entirely new one, and despite the fact that he gave time to caring for individual people, person by person, his gospel is molecular; it's about people together. The very existence of the disciple group confirms that. Christians doing things together involves conflict, but a Christian alone is a contradiction.
Giles Fraser, wrestling with his own loyalty to the Church of England and his despair at the failure to agree on the appointment of women bishops, writes that 'bland, suffocating unanimity cannot replace the reality of political differences…The important  thing is not that we mustn't fight. It's rather that we mustn't draw blood when doing so' There is too much spilt blood in our history; an embattled church does no one any good. Enough conflicts already exist and here we are with another one, fighting our corners over gay marriage, finding arguments based on history, theology or the reading of the scriptures to clothe our prejudices in garments of righteousness.
Above all clothe yourselves with love says Paul but his idea of being clothed is not the same as being cloned; as God's chosen ones, holy and beloved, clothe yourselves with compassion, kindness, humility, meekness, and patience. Bear with one another'. I think there's no other way : allowing other people to be how they are and where history may have landed them. Allowing other confessional churches, to have views as strong and perhaps as balmy as your own. Not necessarily joining up with rival camps but honouring and trying to find the root cause of their beliefs and emphases if they differ from your own. Arguing with them if the moment is right to do so, but not bashing them with your conscience-held opinions in the vain hope that they may surrender their own. We need ecumenical enthusiasts who find an enrichment to their own denominational loyalties by sharing those held by others.
So my suggestion that structural church unity is an unlikely goal is not the cry of a disappointed activist (though there's a bit of that I suppose) but an invitation to love, to love christian people – this great squabbling confederacy who are the body of Christ – and to share the kingdom of difference and discipleship in the sort of harmony that Paul hints at in his letter to the Colossians. Earlier in the epistle he has said ' I want their hearts to be encouraged and united in love' (2:2) It's love that does it, he says. We might add, love but not control, force, superiority, tradition, conformity, obedience; law. And in church relations that should be our way, as it was the way of Jesus. It was the spirit of unity that inspired him. He was more a motivator than a builder. We carry for him his burden of love for the church, but even more his love for the world. That's where our mind should be, as Tagore says in his poem, led forward 'into ever-widening thought and action'.
*And so we pray    :
We praise you O God, our creator
for the blessing of our many cultures, ethnicities and languages.
we thank you for the times that our many church traditions have kept our communities strong and active.
teach us to celebrate our different identities, strengthen our bonds of fellowship, and lead us into greater unity.   Amen.
(*from the S.C.M. liturgy)