Ryanair withdraws advert uses Spanish PM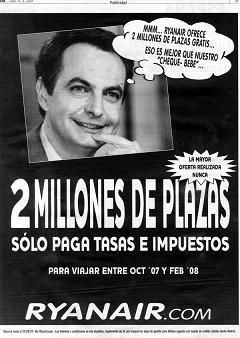 Ryanair withdwaws Zapatero publicity campaign after the advert published in the Spanish press yesterday received wide criticism
Spanish president
José Luis Rodriguez Zapatero
was for one day the star of the latest Ryanair publicity campaign. In allusion to the
Spanish government's recent decision to give mothers 2.500 euros per newborn
, the full-page advert, published in several national newspapers yesterday, had a photo of the Spanish Prime Minister and the slogan:
What is better? Two million free flight seats or 2500 euros for every newborn baby?.
The advert was received with general surprise in Spain yesterday, and Ryanair was criticised by some analysts for using the image of Zapatero without his consent. Government sources confirmed that they were "surprised" that the company had used a photo of the Spanish PM without having sought permission beforehand, but they said that the government did not find the advert offensive and would not be taking legal action against the cheap flight company.
Maribel Rodríguez, the head of Rynanair in España and Portugal told media yesterday that the company just wanted to make a joke which is why the image of Zapatero was used, but that it was not their intention to ridicule the Spanish president or government policy, nor to offend anyone. In the press note released in the morning, Rodriguez wrote: 'we don't want to make fun of anyone and we just wanted to have an amusing advertising campaign to publicise a fantastic offer". Rodríguez said that she was sorry that the advertisement had been misunderstood by some and seen as making fun of the government's economic assistance and said that 'we are an airline not politicians'.
Later on in the day, Ryanair said it would be withdrawing the advert and said that its objective - to catch people's attention with a bit of humour - had been fulfilled (which is putting it mildly - even we've published it!!).
Labels: current affairs Spain, economic and business news, Spanish politics
posted by Euroresidentes at 2:50 PM