USA and Spain relations set to improve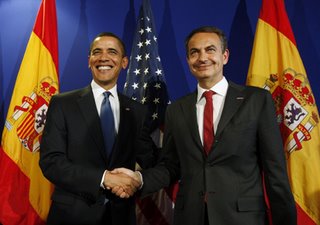 Zapatero offers full support to Obama after 45-min meeting in Prague
The meeting between Obama and Zapatero which took place yesterday following the end of the US-EU summit was the first meeting to be held ever since relations between Spain and the USA became icey following the withdrawel of Spanish troops from Iraq when the Socialists, led by Rodriguez Zapatero, won the March 2004 general elections and put their pre-election withdrawel promise into immediate effect. George Bush, had enjoyed a close relationship with former Spanish president Aznar who had provided staunch support for the invasion of Iraq, but following the withdrawel of Spanish troops relations between the two countries, relations became decidedly tense.
Yesterday's meeting lasted ten minutes longer than scheduled and both presidents seemed very relaxed afterwards. Talking to reporters, Obama said that Zapatero was someone that understood the extraordinary influence of Spain in the world today and who took his responsibilities very seriously. He said that he had enjoyed working with him over the last few days, he hoped the relationship between Spain and the US would be much more solid now and that he welcomed the opportunity of cooperating with Spain in new areas of interest.Obama also said that he was 'happy to call Zapatero a friend' (both men share a keen interest in basketball).
Zapatero said 'we shouldn't ask ourselves what Barack Obama can do for us but what we can do to support Obama and make his ideas in the international order successful'.
Obama also expressed his desire to visit Spain and to return to Barcelona where he had spent some time when he was younger. Both countries exchanged formal invitations although no concrete dates were confirmed. Zapatero said that Obama would always be welcome in Spain and he even asked him to sign a book for his daughter who he said was a firm supporter of the new US president.
Obama said that the strength of relations between the two countries was demonstrated by the fact that Spain had agreed to commit more troops to Afghanistan. Both leaders also discussed Cuba and Latin America briefly. On the issue of Cuba Zapatero offered his ideas on how to make the country more democratic while Obama expressed his worry over the lack of advance in human rights in Cuba.
During the summit between the US and EU in Prague Obama reiterated his desire to close the Guantanamo prisoner base in Cuba by 22nd January 2010. It is believed that Spain like other European states has offered to take up to 60 prisoners from the camp.
posted by Euroresidentes at 11:19 AM